Berakah 4×4
April 2, 2021

-

April 4, 2021

R900
Berakah Eco Trails
The Berakah 4×4 trail set in the Vredefort dome just 13 km outside Parys. We offer a one day or a weekend getaway filled with endless fun, challenges, thrill and nerve wracking experiences.
The trail caters for the beginner to experienced driver, offering leisurely to adrenaline pumping experiences. It is divided into eight sections, each offering its own unique challenges. The difference of this trail compared to others lies in its diversity.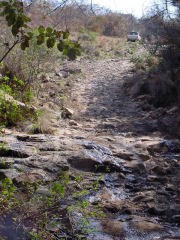 Terrain
In this natural environment of unspoilt beauty on a 14 km trail, guests will pass through open savannah, bushveld, riverbeds, mud, water, hill climbs and scenic mountainous areas. Beside the normal variety of grasses, trees and shrubs, a very thick stand of Wild Olive trees (Olienhout) are found in the protected mountainous areas.
Time Required
The entire trail can be completed in a day. Overnight facilities are available if you want to do the
trail over a two day period.
Trail Rating
The trail rating is bound to cause some controversy. The difficulty of a trail is very much an individual experience. However, this rating is an attempt to give some indication of the degree of difficulty and the type of terrain.
The trail consists of roads with seasonal two track travel. Track or rough rocky surface with 4×4 low range gear ratio are required. Steep drops on one or both sides of the track. The ratings are subject to certain unknown factors such as human error, previous off-road driving experience, condition of the vehicle and adverse weather conditions (wind and rain) and the trail, at a given time. Drivers should regard this rating as a general guideline only.
Essentials for the day
Day visitors:
Camera.
A wheel pump.
A good supply of drinking water. Water on the farm is spring water and is safe to drink. A tuck shop supplying sweets, alcoholic and non-alcoholic beverages and other basic supplies are available.
A plastic bag for rubbish. What you take in, you take out.
First aid kit.
A good sun-block and a hat. The African sun and dry climate can play havoc with one's skin.
Lip balm.
Overnight visitors:
Mosquito repellent for the summer season.
Tents, folding chairs, rucksacks, stretcher and sleeping bags.
Disclaimer clause
Visitors enter the trail at their own risk. Although care has been taken to describe the trails ratings and hazard factors as correctly as possible, it must still be regarded as a guideline only, since driving experience, the condition of the trails at a given time as well as conditions of the vehicle may greatly influence the above mentioned hazard factors.
GPS Coordinates
S 26° 49′ 25″ E 27° 22′ 02″
Costs
Please RSVP: